photo:Myles Boisen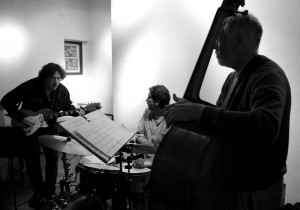 It's been so long since my last record that just now I had to check whether it was five or six years. So I am thrilled, and more than a little relieved, to have just finished the recording of a record with the trio, the Actual Trio, in fact. We did the entire record in one ten-hour day, at the legendary Fantasy Studios, just fifteen blocks from my house. The project feels exciting and new to me in several respects:
1) the trio has been playing together regularly for three years, longer than any other ensemble I've put on record (not counting the collaborative band T.J. Kirk). We play a repertoire written for this group, that is, for John Hanes, Dan Seamans, and myself. The songs are "lived in", for sure.
2) working with producer Hans Wendl, the first time I've had a producer for one of my own records. I've known Hans and his impressive body of work for at least twenty years, and worked with him recently on Sarah Wilson's to-be-released record Kaleidoscope. I felt there was a family resemblance between the trio's music and Sarah's record, and so it just sort of flowed out of that. He was crucial to the success of the recording, to hear the whole trio from above, as it were, thus giving me some space to concentrate on the guitar playing. 
3) a guitar, bass, and drums trio record. of original music. sans effects, minimal editing. live. from which the question arises: do I really have something that must be said in this regard?  I simply would not want to release something that could not more or less hold its own with the guitarists and records I admire. I think that making a record in this manner – one day live in the studio – severely exposes a musician. But – what a great thing, to be exposed!   
4) Going outside my normal practice of recording at one of two studios operated by close friends. Guerrilla Recording and New, Improved have been recording homes for me for a long time, and I really cherish the work I've done there, with Myles Boisen, John Finkbeiner and Eli Crews. For this recording, I wanted to be in that incredible room, Fantasy Studio A, where Sonny Rollins and Bill Evans and mentors of mine like Jerry Granelli and Julian Priester have recorded. To give the drums that warm, spacious sound that lets them fully speak, lets them breathe, lets them sing. We worked with engineer Adam Muñoz, who is to engineering what Marc-Andre Hamelin is to pianos: a virtuoso's virtuoso.
So it's now mixed and sequenced, and we feel that it came out QUITEWONDERFULLY !   Hey, how 'bout that? Eight songs, all first or second takes, originals. The record that comes out after the end of records. Also the record that comes out before our second record. Like the man said: "This Is Our Music."
commitment, openness, and clarity of intent
More news soon. Thanks.